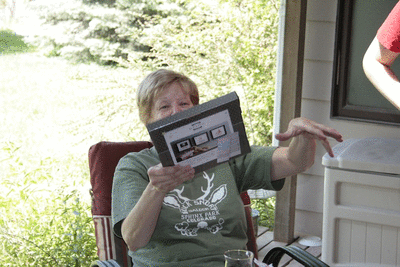 Well, this weekend recap isn't so much about the weekend as it is about Mother's Day. No, it's not my favorite holiday. I love my mom, but I think I'm really going to love being an AUNT!
Proud Mama! Happy Mother's Day, Lisa!
Chris and Lisa showed everyone up with the one thing mom has been asking for since as they got married. Heck! Even before that she would hint at her eagerness to be a g-ma. Well, on Sunday all of her wishes came true. Screw our gifts! They win! Oh, and they also win for the best Christmas present. December 25 is her due date.
Dad's Reaction!
I can't wait to spoil a little girl or boy. Andrew is already convinced that it's a boy, but I can't wait until he is wrong. I've tapped into my pregnancy psychic powers and am happy to report that it will be a girl. Everyone should start buying pink now.
The kid's dad.
Now we just have to figure out what to call g-ma and g-pa. Ideas?
Cheers!
Also, Lindsey's birthday was on Monday. Overshadowed again... Happy birthday Lin!